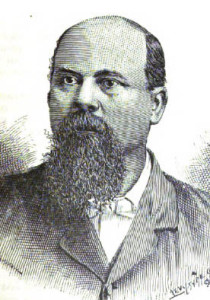 William H. Holland was born in 1841 in Holly Springs, Mississippi. His father was Bird Holland, and his mother was a slave named Matilda who belonged to Bird's half brother Spearman.
Due to financial hardships, Spearman moved his families and slaves to East Texas in 1842. Bird Holland was living in Austin at the time, but moved east to be with Spearman and Matilda. A decade later, Bird moved William and his younger brothers James and Milton to Ohio, set them free and paid abolitionists to raise them.
After the war, William returned to Texas, moving to Austin as the patriarch of the Holland black family. He lived with his mother and a sister named Kate for a time, but also associated with a sister named Eliza and a younger brother named John.
Elected to the Legislature in 1876, William H. Holland passed a bill creating what became Prairie View A&M University for African-American students. Holland left the Capitol to win election as the first African-American Travis County commissioner. He also was the principal of Austin's African-American public school. He later lobbied for and won passage of an act creating a state school for blind and deaf African-American students. Holland was the first superintendent.