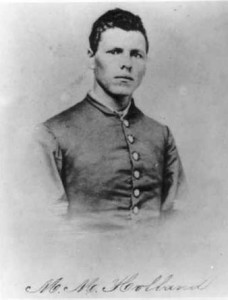 Milton Murray Holland was born in August 1, 1844, on the plantation of Spearman Holland about five miles from Carthage in Panola County, Texas. Spearman was both his owner and his uncle.
Milton's father was Spearman's half brother, Bird Holland. His mother was a mixed-race slave named Matilda. In 1852, Bird moved Milton and his brothers William and James to Ohio, set them free and paid abolitionists to raise them.
On September 29, 1864, in a charge against Confederate lines at Chaffin's Farm, Virginia, Sergeant Major Milton Holland earned the Medal of Honor for taking command of Company C of the 5th U.S. Colored Troops after his captain fell wounded. Holland is the first Medal of Honor winner to have been born in Texas.
Holland was one of 13 African-American men to receive the Medal of Honor for gallantry in the battle. A total of 19 Medals of Honor were given to African-Americans in the Civil War.
After the war, he became a lawyer, businessman and a federal government division manager in the District of Columbia. He is known to have returned to Texas just once: In 1873, Milton and his wife Virginia traveled to Austin to see the mother he had last spoken to twenty-one years earlier.
The photograph is from the Christain A. Fleetwood papers at the Library of Congress.